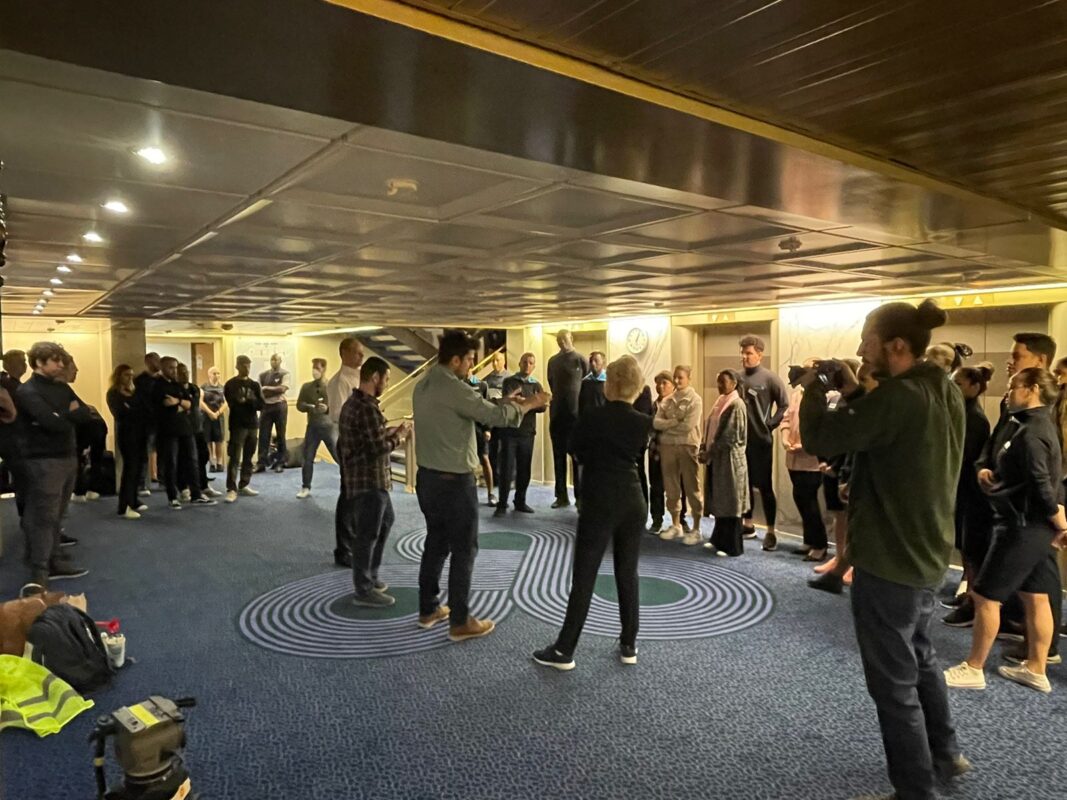 "Developing an application aimed at enhancing safety and operational awareness on passenger ships"
As part of the output of the project "Application for enhancing safety and operational awareness on passenger ships such as cruise ships", a workshop was held on Friday, March 10, 2023, starting at 09:30 on MS CELESTYAL OLYMPIA, a cruise ship of the company in the Lavrio area.
The purpose of the workshop was the pilot application of the product under real conditions, and its evaluation not only by the Project team but also by the real professionals of the Sector. The Knowledge and Innovation Community designed this workshop in collaboration with Celestyal Cruises, during which members of the project team and Company Executives performed system tests aimed at receiving the necessary feedback for system optimization.
The overall system of this product consists of the passenger user application in the form of an app for mobile devices (smart phones), and the management application that will be used by the ship's captain and officers responsible for the safety of the ships.
18 members of the University of Piraeus working group and 30 crew members and executives of CELESTYAL CRUISES participated in the event.
The installation of the system, with the participation of the company's executives, lasted about one hour. This was followed by tests of another hour by the group of 18 people from the University of Piraeus who participated in the workshop, in order to make the appropriate parameterizations.
A presentation was then made to the company's executives followed by system tests. Subsequently, a discussion was held regarding the test and evaluation of the project, as well as an interview with Mr. Gazikas, the company's Chief Captain.
The future goal of the project is to collaborate with CELESTYAL CRUISES to universally implement the product throughout MS CELESTYAL OLYMPIA, and to have a complete pilot application, essential for development and use in maritime entities.
The system was positively evaluated by the ship's crew and the company's executives, and the appropriate notes were made for the modifications that need to be made to respond to real situations (e.g., immediate flagging ability from crew members of points inaccessible due to fire or flag disabling, beyond the central control system.). The impressions of the company's Chief Captain, Mr. Gazikas, were particularly positive, based on his interview. The complete set of observations and data are being processed by the project implementation team and will be presented at a later time.